Discontinued model

Only available ex works until summer 2018
SpaltAxt 8 Special
More power for short and also for metre-long logs.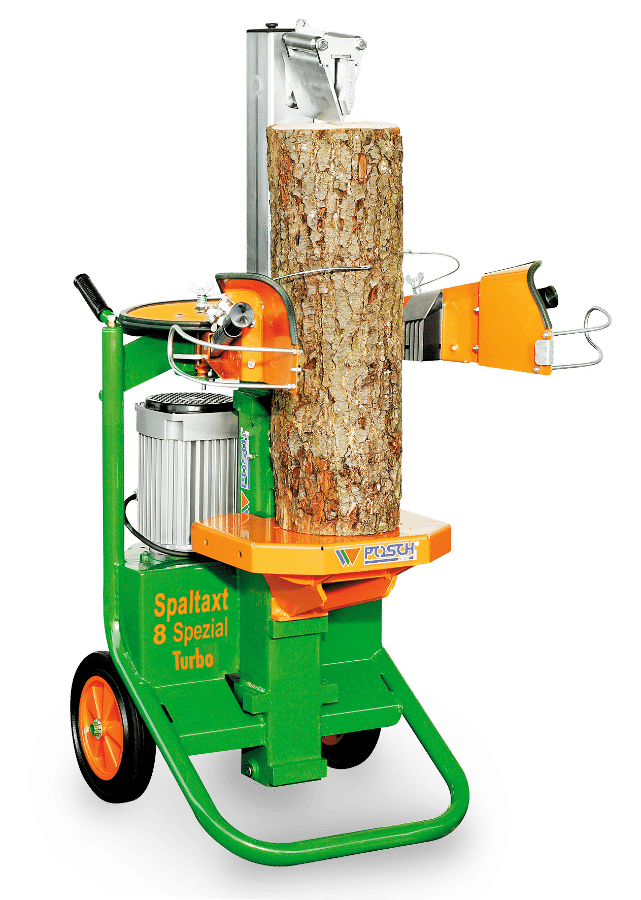 Hover over the image to zoom
7,2 t

Splitting power max.

145 kg

Weight min.

8/46 cm/s

Splitting speed/ Return speed max.
SpaltAxt 8 Special
is the ideal
short-log splitter
for every application. The
unique timber retaining tip
fixes even thin or oblique logs before every splitting process. The
special design
also enables the occasional
splitting of metre-long logs
– optionally up to 130 cm. The excellent
running smoothness
and the
low noise level
constitute a convincing feature of the
turbo model
.
POSCH discontinued model:
only available ex works until summer 2018
Billet length max. 100 cm
Cylinder stroke 54 cm
Splitting knife length 20 cm
Push-on special knife with rollers as standard
Timber support table for variable insertion
Mobile on two solid rubber wheels Ø 30 cm
Article no.
Type
Propulsion
Forward max.
cm/s
Return
cm/s
Split
force t
Weight
kg
M6145
E5,5-400 Turbo

5.5 kW e-motor 400V, S6, CEE 16A

E-drive with motor circuit breaker and phase inverter.

7
41
7,2
162
M6168
B4,1
4.1 kW Briggs & Stratton 4-stroke petrol engine, Consumption: 0.5-0.8 l/h, tank capacity: 1.1 l
5
31
7,2
156
Set of wheels, Ø 40 cm,

Large timber support table
Article no.
Description
F0002527
Base plate for SpaltAxt 8 Special, for timber lengthsup to 130 cm
F0002544
Push-on special knife with rollers
Choose your region
The product sortiment of POSCH may vary between regions. Using the right selection you will be provided with the best available products and equipment.