LogPack
Packaging table for billets
Efficient

∼ 70

Bags / cardboard boxes per operator

Billet length

max. 50 cm

Rotation

4

per minute
1, 2 or 3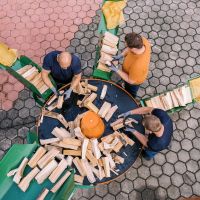 For up to 3 operators
Within seconds, you can attach up to 3 packaging stations to your LogPack. Of course, these can be adapted to the height of the operators – their working height / position is adjustable.
Stop & Go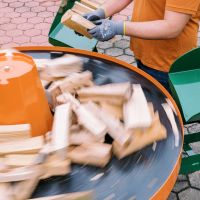 4 rotations per minute
While the table is rotating, the billets are retrieved by the operators and packed via the modules. The table's rotation stops by applying slight pressure per hand or body.
Combinations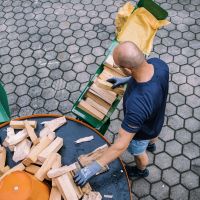 For mesh bags and cardboard boxes
Two different packaging modules are available: for cardboard boxes and mesh bags. These two can be combined with a LogPack, meaning that one operator packs the wood into mesh bags while another one uses cardboard boxes.
Cleaning the billets before packing them makes packing a lot easier!

Markus Handl, Designer
How is LogPack fed with wood?
LogPack is fed via a conveyor belt, making it the perfect option to combine it with:
conveyor belts e.g. firewood processors / SpaltFix systems or saws with conveyor belts
cleaning screens e.g. LogFix 30
From the conveyor belt the billets fall directly onto the buffered round area of the packaging table.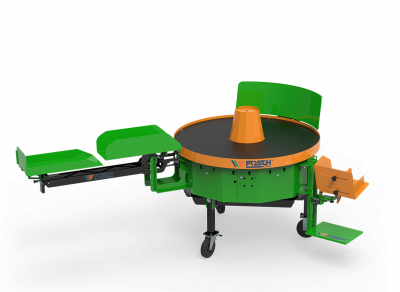 Safe packaging, individually extendible

Rotating table with STOP and GO function!

Ergonomically correct & flexible modules

Compact & mobile
Safe packaging, individually extendible

Up to 3 operators can work on the LogPack and directly pack the produced billets. Your hands are outside of the danger area, avoiding crushing injuries.

Rotating table with STOP and GO function!

The table is 150 cm in diameter, height-adjustable and turns 4 times per minute. Thanks to its friction clutch, it can be stopped at any time by lightly touching it with one's hand or body.

Ergonomically correct & flexible modules

Accessories allow you to quickly and easily pack billets into mesh bags or cardboard boxes. The modules are adjustable in working height and position, making your job easier on your back and less tiresome.

Thanks to its compact dimensions LogPack barely needs any space during work or storage. For this purpose, the modules can be neatly folded up. LogPack can be moved via its standard transport casters.
More details about LogPack!
1
Locations found close to you
Posch Gesellschaft m.b.H.
Headquarters | Plant
in 8430 Leibnitz, worldwide
Paul Anton Keller-Straße 40
8430 Leibnitz
worldwide