Short-log splitter - SpaltAxt
The powerhouse for your firewood
Powerful

8 t

Splitting power max.

Sturdy

127 kg

Weight min.

Fast

8 | 46 cm/s

Splitting speed | Return speed max.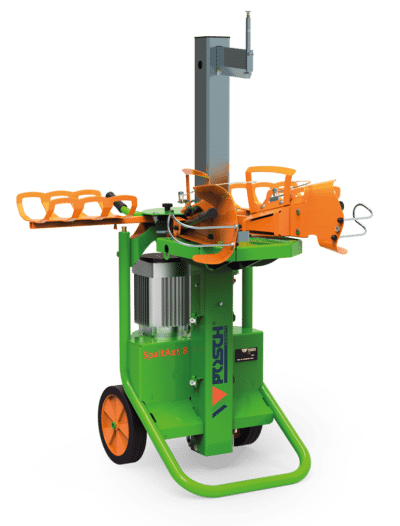 Safe log fixing

User-friendly and ergonomic

Sturdy and durable design

Faster working

Easier transportation

Count on the turbo
The automatic log fixing device on the two-hand switching unit ensures an easy and safe splitting. With the timber retaining tip on the SpaltAxt 8 or 10, even thin logs or ones cut at an angle can easily be fixed.

User-friendly and ergonomic

The additional foldingstorage racks on both sides of the splitting table ensure easy and safe working – even together with other people. The work table is at an ergonomic working height.

Sturdy and durable design

The SpaltAxt with its compact design and its high-grade components is almost indestructible. If you still need a spare parts once in a while, POSCH will deliver the right components even 20 years after you purchased the machine.

The splitting stroke of the SpaltAxt can be adjusted without tools and lets you work particularly fast as a result. Your SpaltAxt always returns only to the set log length and is ready for action again immediately.

Use your SpaltAxt precisely where you need it. The large solid-rubber wheels with Ø 30 cm and the additional third supporting wheel ensures easy manual transportation. A three-point linkage for the tractor drive is optionally available.

The SpaltAxt is also available as

turbo model

with a higher splitting speed. The engine is particularly low-noise. The

Spaltaxt 10

additionally convinces with its greater splitting power reserve and the splitting knife with a length increased by 30% for log diameters up to 40 cm.
Handy accessory equipment for every SpaltAxt
The push-on splitting knife with rollers carries out the work fast and without compromises. The special knife splits the logs quickly and so prevents the split logs from getting stuck during the return movement.
Three-point linkage incl. transport handle. For machines with E-drive (not possible with petrol engine), an optional three-point linkage for tractor transport is available.
Pneumatic tire set for easier transportation. Pneumatic-tired lugged wheels with a diameter of 40 cm make the SpaltAxt even more mobile.
The TURBO short-log splitter
Extremely smooth operation and low-noise
With the TURBO models, the SpaltAxt 8 and the SpaltAxt 10 among the log splitters, you get a high-performance splitter with a higher speed. You do not only profit from a higher splitting speed and return speed, but also from an especially smooth-running unit. You will appreciate the quiet operation of these log splitters right away when your POSCH SpaltAxt slides through the logs quietly and powerfully and then gets ready for action again as quickly as possible.
Die SpaltAxt im Detail - POSCH Leibnitz
Holzspalten mit Posch Spaltaxt 10 Turbo Spezial
Der beste stehend Holzspalter von Posch top Qualität / Posch log splitter in action