Makes woodwork easy
The log splitter with real power
Find the right wood splitter for every application
Billet length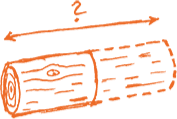 Short logs or metre-long logs?
Split logs up to a length of 250 cm for storage or further processing.
operation mode


vertical or horizontal splitting?
Opt for the most ergonomic solution for effortless working.
type of timber


hardwood or softwood?
POSCH offers up to 55 tons of splitting power for every kind of timber and every diameter.
Holzspalter mit patentierter Holzfixierung HydroCombi – POSCH Leibnitz
Liegendspalter SplitMaster 30 | POSCH Leibnitz
Spaltautomat Autosplit für Anmachholz | POSCH Leibnitz
Kurzholzspalter Spaltaxt 8 Spezial, robust und sicher – POSCH Leibnitz
NEW!
The new rope winches for heavy logs.