NEW: Tilting saw with conveyor belt
The classic
Efficient

24 cm

Cutting diameter max.

Compact

470 kg

Weight min.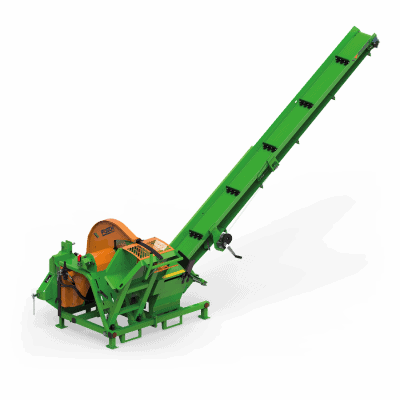 Save time - sawing and loading

Ready for use in a few seconds

Safely saw with ease

Precise billets

Probably the smoothest rocker

Easy transport
Save time - sawing and loading

The cut billets are automatically transferred to the permanently installed conveyor belt. The transfer area from the saw to the conveyor belt is particularly generously dimensioned and prevents billets from jamming. Even the last billets fall directly onto the conveyor belt without an additional rocking cycle!

Ready for use in a few seconds

Via two cable winches – at operating height – the conveyor belt can be folded in or out manually within a few seconds. And the best thing about it: This can be done without any tools or additional conversion work!

The rocker with safety cover can be easily unlocked with the clamp handle. Due to the specially shaped handle, it is easy on your back regardless of your height.

The log-stop is easily adjustable for billet lengths of your choice from 20 to 52 cm, is robustly constructed and guarantees even wood length.

Probably the smoothest rocker

Thanks to the ball-bearing mounted rocker and the integrated spring-power support, the firewood cut – as with all rocker saws from POSCH – is as soft as butter.

The machine is easy to transport and quickly ready for use via the standard three-point hitch or forklift attachment.
Chose the right circular saw blade for your purpose
Cut longer and more quietly with the WIDIA circular saw blade and its 84 teeth. It provides a 50 % increase in hardwood cutting output and significant noise reductions.
As standard, the tilting saw comes with a chrome-alloy saw blade (70 cm in diameter, 56 teeth).
More power and user-friendliness for woodwork
Keeps the workplace clean during cutting
A powerful and quiet blower extracts the chips produced and keeps your workplace clean. The handy extraction device is equipped with a 2m suction hose and a 10m pressure hose as well as a hand-geared trolley for easier transportation. A suitable chip extraction connection is available for every POSCH log saw.
Rocker extension for more stability
The rocker extension with its castor wheels makes sure that even large logs are secured fastly. It is available for the tilting saw and can be used at any time when needed. A billet can easily be transported to the next step with the rollers.
Tilting extension
Der Klassiker: Wippsäge jetzt mit Förderband - NEU von POSCH Leibnitz
Posch Wippkreissäge mit Förderband