NEW: UniCut
The all-round saw without compromises
Efficient

up to 24 cm

Cut diameter

Saw blade

70 cm

Compakt

from 165 kg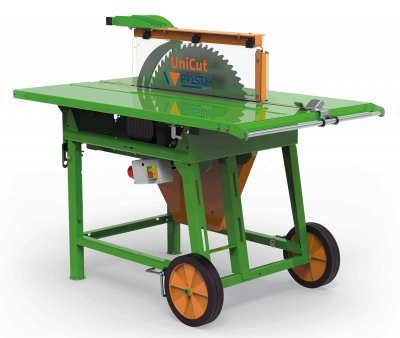 Longitudinal and transver operation possible

On the safe side

Large sawing table for safe positioning

Good stability with integrated brake

Robust yet mobile
One circular table saw – three possibilities

UniCut turns logs into grazing poles in seconds. Use the saw blades to sharpen the round logs and, if needed, split them in the middle. With optional accessories, you can also use it to produce firewood and make longitudinal cuts.

Longitudinal and transver operation possible

This table saw is equipped with an angular gear (when driven via a PTO shaft). This makes it possible to use it even at an angle to the tractor.

The robust safety housing protects your hands from accidentally reaching into the saw blade. But it still allows you to work efficiently: The transparent polycarbonate cover gives you a good view of the circular saw blade and the work process.

Large sawing table for safe positioning

Material to be cut can be kept safely on the large 150 × 85 cm support table. This provides you with comfort and lots of space.

Good stability with integrated brake

The brake (on models with e-drive) fixes the saw during operation and secures the wheels accordingly.

Despite its solid construction, the UniCut is easy to move with its large solid rubber wheels. The PTO drive model with three-point linkage comprises a transport aid.
In addition to wooden posts, would you like to produce firewood and make longitudinal cuts? Optional extensions make this saw truly flexible.
One table saw - three possibilities
Optional extensions make this saw truly flexible:
Add now: The powerful WIDIA saw blade
Less noise and longer cutting with the WIDIA log saw blade with 84 teeth. It provides a 50 % increase in hardwood cutting output and significant noise reductions.
As standard, the saw is equipped with a high-quality, chrome-alloy standard saw blade.
Keeps the workplace clean during cutting
A powerful and quiet blower extracts the chips produced and keeps your workplace clean. The handy extraction device is equipped with a 2m suction hose and a 10m pressure hose as well as a hand-geared trolley for easier transportation. A suitable chip extraction connection is available for every POSCH log saw.