HydroCombi 20 chassis
The professional hydraulic firewood splitter – mobile on axle.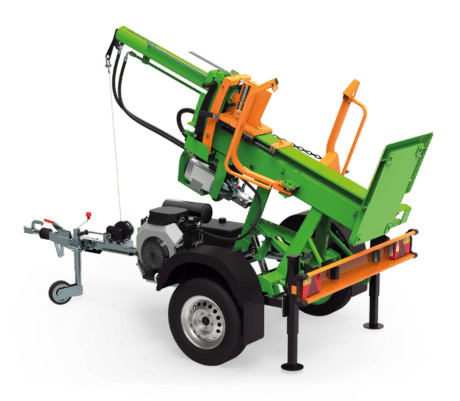 Hover over the image to zoom
20 t

Splitting power max.

916 kg

Weight min.

13/11 cm/s

Splitting speed/ Return speed max.
HydroCombi 20 chassis
, the professional
hydraulic firewood splitter
from POSCH. Mobile on axle for
mobile applications
. Ideal for
metre-long logs
. With the
Fixomatic system
or the
timber retaining tip
, the timber can be fixed during the splitting process so that you do not have to take the trouble to hold it in place. The standard
log lifting device
puts heavy logs into position and
ensures back-friendly and easy splitting
.
Fixomatic system
Autospeed
Max. billet length 110cm
Cylinder stroke 100cm
Tank capacity 43 l hydraulic oil
Height transport/ work position 200/260cm
Rope winch brings the HydroCombi in transport position
Mobile on axle with ball hitch, max. transport speed 80 km/h and lights.
standardprogramm
Article no.
Type
Propulsion
Forward level
1 / 2 cm/s
Return
cm/s
Split
force t
Weight
kg
list price
excl. VAT
M6248MSAR

20B15-R-PkW


16.4 kW 4 stroke petrol engine (B&S) with E-starter, consumption: 3.0-3.5 l/h, tank capacity: 8 l
6 / 13
11
20
900
15.700,00
ED


(SO1281)

Surcharge for additional e-drive 5.5kW, 400V with double-stage pump for M6203MSAR and M6248MSAR
30
2.100,00
Make your work routine easier with a series of useful additional pieces of equipment.
standardprogramm
Article no.
Description
list price
excl. VAT
A142


(SO9142)

Individual permit / Individual type approval (EBE) for road admission, only possible for deliveries to Austria and Germany!
750,00
H


(SO1007)

Hydraulic log lifting device (instead of mechanical lifting device), controlled via valve. No GS-mark!
1.350,00
Handy accessory equipment for more power and convenience for wood processing.
standardprogramm
Article no.
Description
list price
excl. VAT
F0003048

Attachable floor grid, anti-slip (HC 16/18)
270,00
F0003049

Attachable floor grid, anti-slip (HC 20/22/24 Turbo/26)
350,00
F0003463

Power saw bracket: Safe transportation and handy storage for the power saw for chassis models
190,00
Power saw bracket

Push-on floor grid
Choose your region
The product sortiment of POSCH may vary between regions. Using the right selection you will be provided with the best available products and equipment.