LogFix 60
The powerful log screen for up to 60 m3/h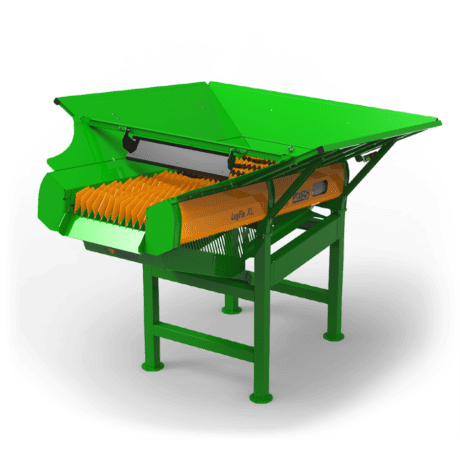 Hover over the image to zoom
60

Max. loose m³/ hour

3,5 x 1 m

Screen surface
The
LogFix XL
separates billets from splinters and delivers
high-quality firewood
in next to no time.
15 rotating rollers
remove unwanted
wood chips, bark and splinters
from the firewood and drop them. The
filling hopper
of the cleaning device stores larger volumes of firewood and enables controlled feeding. As the rollers rotate with only
93 revolutions per minute
, the LogFix is very quiet. An optional installation frame with
comb teeth
additionally improves the cleaning effect. Under the screen, there is a
hopper
which passes the scrap wood on to an optional
conveyor belt
or a container. With the
radio remote control
, the screen can easily be turned on and off from any operator position.
Screen width 3 cm
15 rotating rollers
Roller speed 93 rpm
Conveyor belt width max. 65 cm
Cleaning throughput max. 60 loose m³/h
Standard standstill monitoring system for screening drums with automated reversal of rotating direction to prevent jams
Screen width 87 cm
Filling chute to bucket feed 284 cm x 302 cm as standard
Radio remote control as standard
Optional increase of support frame height by 60 cm
Tilt adjustable 5° and 10° (set to 10° at factory)
spezialprogramm
Article no.
Type
Propulsion
Weight
kg
list price
excl. VAT
M8055RCU

E3-400


3x 400V, 50Hz

3 kW E-motor 400V, S6, CEE 16A, incl. wireless and battery-free remote control, automated belt reverse

E-drive: with motor circuit breaker and phase inverter

2730
31.000,00
M8057

PS


Tractor hydraulics, size 2 hydraulic sleeve for forward and return movement required. Compl. with connection tubes and hydraulic plug. Non-pressurised return movement required! Max. delivery rate of pump 20 l/min - 180 bar
2700
31.000,00
M8055RCUNE1

E2.2-460


3x 460V, 60Hz

3 kW E-motor 460V, S6, CEE 16A, incl. wireless and battery-free remote control, automated belt reverse Please note: Only suitable for USA / CAN! For details see appendix B. The machine is offered for field evaluation by the customer in the USA or the special inspection in Canada with a 3x460V/60Hz drive, a CSA certified Wattdrive e-motor and switch with UL or CSA certified parts.
2530
33.510,00
Installation frame with comb teeth
standardprogramm
Article no.
Description
list price
excl. VAT
F0004261

Height-increasing element base frame, 60 cm
1.000,00
F0004071

Installation frame with comb teeth (18 pieces), for an optimum cleaning result individually removable
2.900,00
F0004033

Conveyor belt chute for transfer height 100 cm, max. output 15-20 loose m3/h
1.500,00
Choose your region
The product sortiment of POSCH may vary between regions. Using the right selection you will be provided with the best available products and equipment.