LogFix 15
A clean thing – up to 15 m3 of cleaned logs per hour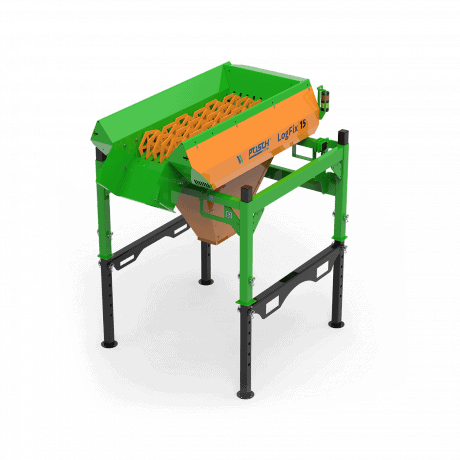 Hover over the image to zoom
15

Max. loose m³/ hour

1,1 - 2,2 m

Ejection height max.
LogFix separates logs from splinters
and delivers high-quality
firewood
in very little time. We have developed this compact solution particularly for the
cleaning of logs
that are being processed with
firewood processors
with an
8-way splitting wedge, at the most
.
For loading, conveyor belts with a max. width of 65 cm are used as well. The 6 rotating rollers separate the undesirable chips, bark pieces and splinters from the firewood and drop them.
As the rollers rotate with only 70 rotations per minute, the
LogFix
is very quiet. With the optional radio remote control, the screen can easily be switched on and off from any operator position.
Screen width 2.5 cm non-adjustable
Screen surface approx. 140 x 53 cm
Ejection height up to 3.5 m
6 rotating rollers, roller speed 70 rpm, Tilt adjustable 0-10°
Waste funnel as standard
Cleaning throughput max. 15 loose m³/h
Undercarriage height adjustable
Wireless and battery-free radio remote control optional
spezialprogramm
Article no.
Type
Propulsion
Weight
kg
list price
excl. VAT
M8020

E2.2-400


3x 400V, 50Hz

2.2 kW E-motor 400V/50 Hz, S6, CEE 16 A

E-drive: with motor protection switch, screen start/stop function and phase inverter

835
10.300,00
M8020NE

E2,2-3x200-480V-60Hz


3x 200V, 60Hz

2.2 kW E-Motor 3x200-480V400V/60Hz, S6, CEE 16A, start-stop switch not included in scope of supply. Only suitable for USA / CAN! For details see appendix B.
834
10.250,00
M8020NE1

E2,2-3x460-60Hz


3x 460V, 60Hz

2.2 kW E-motor 3x 460V400V/60Hz, S6, CEE 16 A. Only suitable for USA / CAN! For details see appendix B.The machine is offered for field evaluation by the customer in the USA or the special inspection in Canada with a 3x460V/60Hz drive, a CSA certified Wattdrive e-motor and button with UL or CSA certified parts.
836
12.830,00
M8021

E2,2-230


230V, 50Hz

2.2 kW E-motor 230V/50 Hz, S6, CEE 16 A

E-drive: with motor circuit breaker

800
10.300,00
M8022

PS


Tractor hydraulics, size 2 hydraulic sleeve required for forward and return movement, including connection hoses and hydraulic connectors. Non-pressurised return movement necessary! Max. conveying capacity of pump 15 l/min – 180 bar
1231
10.300,00
Valid for initial equipment, incl. assembly.
spezialprogramm
Article no.
Description
list price
excl. VAT
RC


(SO1165)

Wireless and batteryless radio remote control which transforms the mechanical energy of the pressure applied to the push button into electric energy for signal transmission. The operation of the screen is monitored with an illuminated display. On/off function via remote control. Attention, not possible with type PS!
1.150,00
Handy accessory equipment for more power and convenience for wood processing.
standardprogramm
Article no.
Description
list price
excl. VAT
F0004689

Fine screen for log lengths exceeding 25 cm and diameters of less than 7 cm
1.550,00
F0004634

75 cm slide extension, transfer height 15-145 cm. Attention! Cannot be combined with SF3
900,00
F0004772

Hatch chute
870,00
F0004690

BigBag suspension system
180,00
Choose your region
The product sortiment of POSCH may vary between regions. Using the right selection you will be provided with the best available products and equipment.